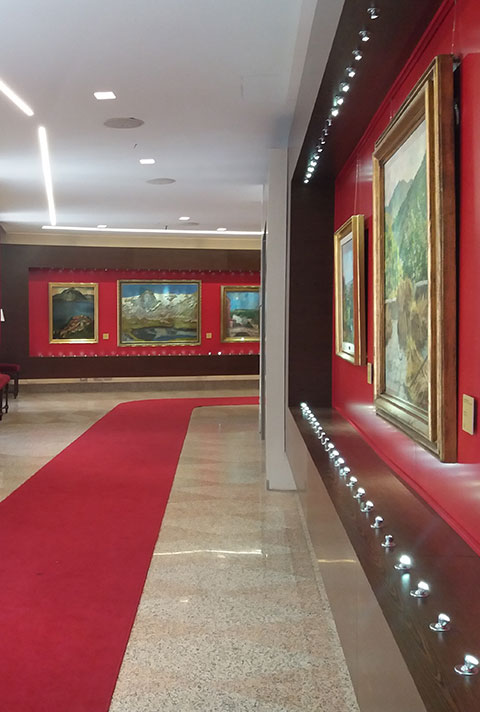 The Conference Center
The Conference Center is housed in the seventeenth-century Palazzo Confalonieri, in the center of a hyperactive historic Milan around which gravitate financial business. It is located just two paces from the La Scala Theater and the Duomo, between via Monte di Pietà and via Manzoni, among streets consecrated to fashion, and near the Stock Exchange.
The building, which is very easy to reach for those travelling by public transportation, is 200 meters from the "Montenapoleone" stop of line '3' of the Milan underground, while it's just a five-minute walk from the "Duomo" stop of line '1' and line '3'.
The building, which is accessed from via Romagnosi 8, and where you are greeted by an unusual urban green "lung" preserved intact and guarded by a beech tree that stands beside the magnolia trees, is to all intents and purpose the Convention Center of the Fondazione Cariplo, since it is owned by Fondazione Cariplo – Iniziative Patrimoniali S.p.A., a company that is a subsidiary of theFondazione Cariplo.
There are a total of seven halls that are available for events and conventions, meetings and conferences.
The Center also offers vast corridors and additional halls, spaces, and surrounding for hosting guests, promotional installations and stands, along with cloakroom service, catering, interpreting service, and all that is necessary for convention activities.
The added value of the Fondazione Cariplo Conference Center is the ability to combine the elegance and the quality of an environment where you can experience a taste for art and antiquity with the use of new technologies, to ensure that clients – business from the Italian and international economic-financial community, private compaines and public institutions, as well as non-profit organizations and associations – receive maximum satisfaction in relation to thier needs.