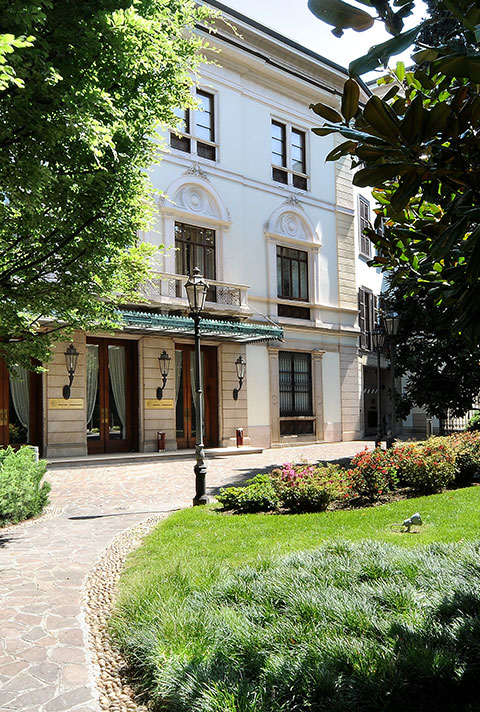 The building
The building is situated in an area rich in history. It was built in the late 1600s when it became the resdience of the Confalonieri family, one of the most aristocratic families in Milan.
As proof of these remote origins, the slab on the facade of via Monte di Pietà still boats the name of Federico Confalonieri.
Since the beginning of the 1900s, the Confalonieri house and other neighboring buildings situated along via Monte di Pietà and the cross street, via Andegari, were purchased by the Casse di Risparmio delle Provincie Lombarde (Saving Bank of the Privinces of Lombardy) in view of a future expansion of its offices.
From January 1928 until the early Sixties, the building complex was used for the Tax Collection offices of Milan.
In 1966, after the Tax Collection offices were transferred in 1963, the entire gruop of buildings underwent its first major renovation aimed at housing the facilities and offices of the bank. The team of architects and engineers managed to keep all the facades unaltered, in a uniform style, respecting the original prestgios architecture and the historical memory related to these buildings.
During the renovation work, the remains of ROman walls from the IV century were discovered within Palazzo Confalonieri and, when removing the paint, the valuted ceilings painted with gold decorations were uncoverd, which can still be admired in these halls.
The building has five floors – the Conference Center is now open to the public up to the second floor, while the last two are for offices – and on the two floors below, since the first renovation, the underground garage was created.
The adjancent buildings became the offices for a number of divisions of Cariplo, and it was decided that the Confalonieri huose would be used for a "rapresentation" par excellence, useful for economic and financial meetings and conferences at any level, even internationally.
The Salone dell'Economia Lombarda (Lombard Economics Hall) was then created, along with the other halls that complete the structure.
Recently, the building has required a second renovation, completed in March 2006, aimed at including new technologies and making advanced equipment available while introducing innovative installations for the numerous artitics works of the great cultural heritage owned by the Fondazione Cariplo.